Layered Mashed Potato & Mushroom Casserole with Black Truffle Drizzle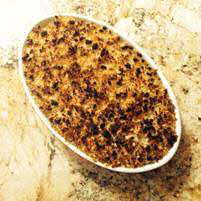 Allen Dikker, founder of Potatopia, an all-potato concept restaurant with locations in New York and New Jersey, has created a new way to reuse leftover mashed potatoes and bread from Thanksgiving dinner with his Layered Mashed Potato & Mushroom Casserole. This recipe uses what you already have with just a few easy additions and transforms leftovers into a completely new dish.
INGREDIENTS
For the Mashed Potatoes:
· For the potato layer of the casserole, utilize refrigerated mashed potatoes leftover from Thanksgiving dinner.
For the Breadcrumbs:
· 1/4 piece of leftover baguette from Thanksgiving dinner
· 4 tablespoons of shredded Pecorino Romano Cheese
For the Mushroom:
· 20 oz. of Bella mushrooms
· 1 cup of white onion
· 1/4 cup of minced fresh garlic
· 1/4 cup of red cooking wine
· 1/4 cup of heavy or light cream
· 2 cups of Shredded Gruyere Cheese

· Salt and Pepper to taste
· Black truffle oil drizzle to taste
· Chopped up scallions or chives on top

DIRECTIONS
For the Breadcrumbs:
1. Cut up the French Baguette and process through a food processor.
2. While the bread is being processed, add 4 table spoons of shredded Pecorino Romano Cheese, until thinly chopped.
3. Set aside for later
For the Mushroom:
1. Mince the mushrooms, fresh garlic, and white onion.
2. In a frying pan, drizzle with your preference of oil and add the onion, then garlic and sprinkle a pinch of salt and stir. Let the mixture brown, about 5 minutes.
3. Add the chopped mushrooms and keep stirring about 5 minutes.
4. Add the red cooking wine and cook until the mushroom is reduced and taste looking for no remaining acidic flavor.
5. Add the cream, keep stirring until small bubbles form, about 3 minutes.
6. Add the cheese and stir until when you pull out your spoon, the cheese pulls a bit.
7. Season with pepper to taste
For the Casserole:
1. Preheat oven to 400 degrees
2. In a 12" oval baking dish add an even layer of the leftover mashed potatoes along the bottom.
3. Next spread the mushroom base as the next layer.
4. Continue layering until both are used.
5. Spread a thin even layer of the mixed fresh bread crumbs on top.
6. Put casserole into oven and bake for 7 minutes.
7. Then turn oven onto broil setting and watch for a quick browning, being careful not to burn it.
8. Remove from oven, drizzle generously with black truffle oil and sprinkle top with fresh scallions or chives.

Options: Add bacon at the end during the broil process.

Recipe courtesy of (www.Potatopia.com)