CHESTNUT-STUFFED PORK ROAST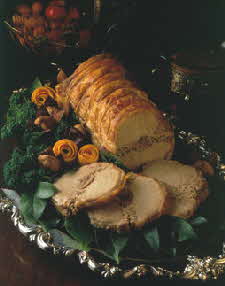 Serves 15
Ingredients
• 5-pound boneless double loin roast, tied
• 1/2 pound ground pork
• 1/2 cup finely chopped celery
• 1/2 cup finely chopped shallots or onion
• 1 tablespoon butter
• 2 tablespoons chopped parsley
• 2 tablespoons brandy
• 1/2 teaspoon salt
• 1/2 teaspoon pepper
• 1/8 teaspoon allspice
• 1 15½ oz can chestnuts, drained
• 2 teaspoons drippings
• 3 tablespoons flour
• 2 cups chicken broth
• 1 tablespoon chopped parsley
• 1 teaspoon brandy
• Salt and pepper, to taste

Cooking Directions
Untie roast, open and pound lightly to even thickness.

Cook celery and shallots (or onion) in butter until tender. Combine with ground pork, parsley, brandy and seasonings. Spread over roast. Lay a row of chestnuts down the center of stuffing. Chop remaining chestnuts finely and set aside. Roll meat around chestnuts and tie firmly. Roast in a 350 degree F. oven 1 1/2 hours or until meat thermometer reads 155-160 degrees F. Remove roast and let rest 10-15 minutes before carving.

Pour off extra fat; measure 2 tablespoons. Stir flour into the 2 tablespoons fat. Add chicken broth, cook and stir until mixture thickens. Add reserved chopped chestnuts, parsley and brandy. Season to taste with salt and pepper. Serve gravy with roast.

Serving Suggestions
Make the holiday meal special with this stuffed roast.

Nutrition Facts
Calories 360 calories; Protein 49 grams; Fat 14 grams; Sodium 300 milligrams; Cholesterol 130 milligrams; Saturated Fat 5 grams; Carbohydrates 4 grams; Fiber 0 grams

Recipe and photo courtesy of National Pork Board. For more information about The Other White Meat, visit TheOtherWhiteMeat.com