CHEESY CREAM CORN WITH SMOKY BACON RECIPE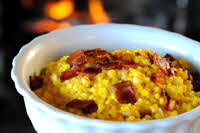 The amazing combination of sweet corn with melted Cheddar cheese and smoky bacon makes this side dish a worthy candidate for your Thanksgiving table.
Why try? This creamy corn side dish pairs up beautifully with mashed potatoes, turkey, stuffing. It just fits right in. You'll want to give it a recurring role in your Thanksgiving spread, or anytime you want to serve something special.
Foodie Byte: The bacon adds a wonderful finishing touch to this dish. Avoid the temptation to use less than the recipe calls for.

Ingredients
• 4 strips bacon, 1/2-inch diced and drippings
• 1 cup onions, chopped
• 2 packages frozen corn
• 1 cup cheddar cheese, grated
• 1 cup half and half cream
• Salt and pepper
• 1/8 or 1/4 teaspoon powdered ginger

Preparation
1. Cook bacon until crisp. Remove.

2. In drippings, sauté onions until soft but not brown. Add corn and cheese to onions. Cook, stirring about 10 minutes.

3. Add cream and seasonings. Top with bacon and heat until bubbly.

Recipe & Photo courtesy of the FoodChannel.com