EGG NOG RUM FRENCH TOAST RECIPE
A perfect holiday morning breakfast or brunch for the adults in the family. Pair the perennial favorite rum-raisin flavor with egg nog for a cravable sweet and creamy French Toast.
This is wonderful with fresh fruit and can be complimented with toasted or candied nuts or even warm rum soaked sugared raisins. This recipe can be done with 1/2 teaspoon of rum extract in place of the dark rum.
This is a popular late-night breakfast for after Christmas eve services or following the New Years Eve festivities.
Serve with Creamy Rum Sauce, served warm. (BELOW)
INGREDIENTS
• 4 eggs
• 1 cup egg nog
• 2 tablespoons Dark Rum
• 1/4 teaspoon cinnamon
• 1/8 teaspoon nutmeg
• 1/8 teaspoon salt
• 12 slices cinnamon swirl raisin bread (thick cut)
• 2 tablespoons butter, melted
• 2 tablespoons cinnamon sugar (1 cup sugar to 1 1/2 tablespoons cinnamon)

DIRECTIONS
1. In a medium mixing bowl, beat eggs with a wire whip.

2. Add egg nog, rum, cinnamon, nutmeg and salt, whip to combine.

3. Heat heavy skillet. Soak bread slices in egg mixture for 1 1/2 to 2 minutes. Soak only as many pieces of bread as you can fit in your griddle at one time. Two batches of six or three batches of four. Add melted butter to the medium hot griddle.

4. Sprinkle each slice of soaked bread with 1/4 teaspoon of cinnamon sugar and lay sugar side down in the griddle. Sprinkle additional 1/4 teaspoon of cinnamon sugar on top of each slice in the griddle.

5. Cook for 3 to 4 minutes until French toast is a light golden brown and turn to cook other side.

6. Serve hot with creamy rum sauce or butter and maple syrup.
CREAMY RUM SAUCE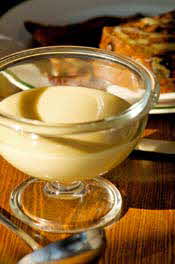 A perfect accompaniment to the Egg Nog Rum French Toast or any pancake or waffle brunch.
Prep Time: 10 minutes
Serves: 4
INGREDIENTS
• 3 tablespoons cream cheese
• 4 ounces butter
• 1/4 cup syrup
• 1 tablespoon Dark Rum, Cruzan
DIRECTIONS
1. Warm cream cheese and butter to room temperature. This can be done in the microwave on 1/2 power.
2. Add syrup and dark rum.
3. Blend in a blender or food processor until smooth. Serve at room temperature.

Recipes & photos courtesy of The Food Channel ( www.foodchannel.com )