BULGUR, MEDITERRANEAN BULGUR SALAD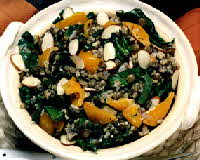 Servings: 8
Ingredients:
• 3/4 cup bulgur wheat, dry
• 1 cup lentils, dry – rinsed and drained
• 2 tablespoons garlic flavored olive oil
• 1 cup sliced green onions
• 1 small red or yellow pepper, cleaned & cut into ½-inch squares
• 3 cups lightly packed spinach leaves, deveined & cut into thin strips
• 2 teaspoons dried dill weed
• 8 ounces plain, nonfat yogurt
• 1/2 cup sliced almonds, toasted*
• salt and pepper to taste

Directions:
Preheat oven to 350°F.

Cover bulgur with 2 cups boiling water, set aside for 30 minutes.

In a 1-quart saucepan, simmer lentils in 2 cups water for 20 minutes. Drain.

Heat oil in a large skillet over medium heat and sauté onion and pepper squares 5 minutes. Thoroughly drain bulgur; mix with lentils and add to skillet. Stir well and cook 5 minutes. Add spinach and cook 3 minutes. Stir in yogurt and heat thoroughly. Salt and pepper to taste and sprinkle with almonds. Serve immediately.

* To toast almonds, spread in a single layer on an un-greased baking pan. Bake 5 to 10 minutes in oven until almonds are slightly browned. Stir occasionally.

Nutrition:
One serving provides approximately: 221 calories, 12 g protein, 29 g carbohydrates, 11 g fiber, 7 g fat (1 g saturated), 2 mg cholesterol, 137 mcg folate, 3 mg iron, 37 mg sodium.
Recipe courtesy of the Wheat Foods Council