Also see: Bean Trivia; Green Beans; Lima Beans ; etc.
Also see longer Articles: Beans and Black Beans
BEANS, DRIED
Dried bean types include pinto beans, black beans, navy beans, great northern beans, pink beans and kidney beans.

In 2009 North Dakota produced about 34% of the dry edible beans in the U.S. (US Census Bureau, 2010)
The United States is by far the world leader in dry bean production. Each year, U.S. farmers plant from 1.5 to 1.7 million acres of edible dry beans. And while Americans are the chief consumers of these beans, 40 percent are shipped to international markets in more than 100 different countries around the globe.
CDC.gov - 5 a Day
'The Anatomy of Melancholy' by Robert Burton (1621) listed 64 remedies for gas produced from eating beans.

Alaska Strawberries: A facetious nineteenth-century American euphemism for 'dried beans', an ingredient in need of some talking up to make it palatable.
Some exotic and heirloom beans.
(Photo by Chef James, Beans courtesy of
Purcell Mountain Farms)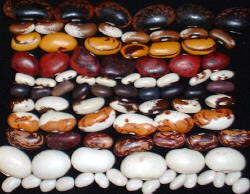 CLICK ON THE FOLLOWING LINKS FOR DESCRIPTIONS AND PHOTOS OF SOME HEIRLOOM & EXOTIC BEANS.
These are only a few of the beans listed here - many more may be found on this website, listed alphabetically in the Facts & Trivia section, and also some with longer Articles.
Please feel free to link to any pages of FoodReference.com from your website.
For permission to use any of this content please E-mail: [email protected]
All contents are copyright © 1990 - 2023 James T. Ehler and www.FoodReference.com unless otherwise noted.
All rights reserved. You may copy and use portions of this website for non-commercial, personal use only.
Any other use of these materials without prior written authorization is not very nice and violates the copyright.
Please take the time to request permission.
FOOD TRIVIA and FOOD FACTS
CULINARY SCHOOLS
& COOKING CLASSES
From Amateur & Basic Cooking Classes to Professional Chef Training & Degrees
FoodReference.com (since 1999)
FOOD TRIVIA and FOOD FACTS SECTION