See Also: Beans, Dried
ADZUKI BEAN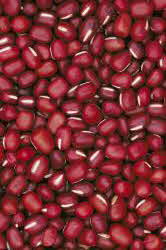 adzuki bean, azuki bean
(Phaseolus angularis, syn. Vignus angularis)

The Adzuki bean is a small Asian red, burgundy or maroon colored bean with a white ridge along one side, and have a slightly sweet flavor and soft texture.

Originally from Asia, its name means "little bean" in Japanese. Its red coloring - red being the most important color in Eastern celebrations - means that it is greatly used in festive or special meals. Although they are mostly dark red in color, they can also be black and gray.

They can be cooked whole with rice, used in soups, and made into a paste or flour for use in cakes, ice cream, beverages, etc. The are can also be used for bean sprouts. Adzuki beans are especially popular in Japan and Korea.
Adzuki beans have been cultivated in China for more than 3,000 years, and were introduced to Japan sometime before the 8th century. It is the second most popular legume in Japanese cuisine after the soya bean.
These small burgundy-colored beans have a snappy white stripe. They are mostly used cooking to make sweet desserts. They are also a favorite in health food circles and are easier to digest than most other beans.
(Purcell Mountain Farms).

Please feel free to link to any pages of FoodReference.com from your website.
For permission to use any of this content please E-mail: [email protected]
All contents are copyright © 1990 - 2023 James T. Ehler and www.FoodReference.com unless otherwise noted.
All rights reserved. You may copy and use portions of this website for non-commercial, personal use only.
Any other use of these materials without prior written authorization is not very nice and violates the copyright.
Please take the time to request permission.
FOOD TRIVIA and FOOD FACTS
CULINARY SCHOOLS
& COOKING CLASSES
From Amateur & Basic Cooking Classes to Professional Chef Training & Degrees
FoodReference.com (since 1999)
FOOD TRIVIA and FOOD FACTS SECTION