See Also: Abalone Poisoning; Snails
ABALONE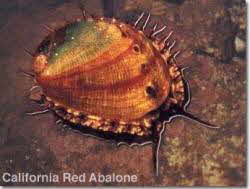 Abalone are any of several species of gastropod mollusks, genus Haliotis, a type of marine sea snail. They have a single broad flattened shell with a row of holes on one side of their shell, which is lined with an iridescent mother of pearl. Abalone range in size from 4 to 12 inches, weighing up to about 8 pounds. The edible portion is the thick adductor muscle or foot which it uses to attach itself to rocks.

They are usually eaten fresh, but may also be dried or canned. The tough muscle meat must be pounded before cooking. They are best as thin cutlets cooked very briefly since they will become tough when temperature exceeds 120°F. However, continued long, slow cooking will eventually break down the connective tissue resulting in tender meat (in Japan abalone is sometimes simmered for several hours). Their mild flavor is similar to clams.
Abalone is the common North American name, and they are known as Oreille de Mer in France, awabi in Japan, bau yue in China, paua in New Zealand, mutton fish in Australia, Loco in various South American countries, and Ormer or Venus ear in England. They are most popular in China and Japan.

The largest variety of abalone is the red abalone found off the coast of California, which can reach 11 inches across.
Commercial fishing for abalone is prohibited in Washington and Oregon. They are now also being farm raised.

Over harvesting of fish and shellfish is not only a modern phenomenon. There is evidence that on Catalina Island off California, the local residents of about 4,000 B.C. harvested and ate so many abalone that they almost wiped them out and had to switch to eating mussels.
FREE Magazines
and other Publications
An extensive selection of free magazines and other publications
FOOD TRIVIA and FOOD FACTS
Please feel free to link to any pages of FoodReference.com from your website.
For permission to use any of this content please E-mail: [email protected]
All contents are copyright © 1990 - 2023 James T. Ehler and www.FoodReference.com unless otherwise noted.
All rights reserved. You may copy and use portions of this website for non-commercial, personal use only.
Any other use of these materials without prior written authorization is not very nice and violates the copyright.
Please take the time to request permission.
CULINARY SCHOOLS
& COOKING CLASSES
From Amateur & Basic Cooking Classes to Professional Chef Training & Degrees
FoodReference.com (since 1999)
FOOD TRIVIA and FOOD FACTS SECTION