See also: Farms & Farmers
AGRICULTURE
Peppers, avocados and amaranths were being grown in the Americas as early as 8,000 B.C.
The Egyptians believed that the god of agriculture, Osiris, taught humans how to make beer.
About 99% of today's agricultural production depends on only 24 different domesticated plant species. Of those, rice, wheat and corn account for most of the world's caloric intake.
Stephen A. Goff & John M. Salmeron, Scientific American, August 2004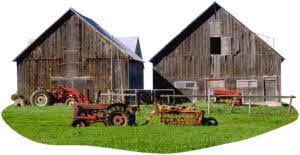 Agriculture generates 20% of the U.S. Gross Domestic Product.

One-fourth of the world's beef and nearly one-fifth of the world's grain, milk and eggs are produced in the U.S.

With modern methods, one acre of land in the U.S. (about the size of a football field) can produce:
• 42,000 lbs. of strawberries
• or 11,000 heads of lettuce
• or 25,400 lbs. of potatoes
• or 8,900 lbs. of sweet corn
• or 640 lbs. of cotton lint

Please feel free to link to any pages of FoodReference.com from your website.
For permission to use any of this content please E-mail: [email protected]
All contents are copyright © 1990 - 2023 James T. Ehler and www.FoodReference.com unless otherwise noted.
All rights reserved. You may copy and use portions of this website for non-commercial, personal use only.
Any other use of these materials without prior written authorization is not very nice and violates the copyright.
Please take the time to request permission.
FOOD TRIVIA and FOOD FACTS
CULINARY SCHOOLS
& COOKING CLASSES
From Amateur & Basic Cooking Classes to Professional Chef Training & Degrees
FoodReference.com (since 1999)
FOOD TRIVIA and FOOD FACTS SECTION