ACORN TRIVIA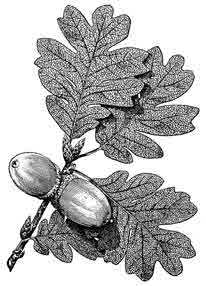 Acorns are true nuts, and are the fruit of the oak tree. They have a high content of tannins, making them bitter and astringent if eaten raw.
Some varieties are unpleasantly astringent and only suitable as food in time of famine. Other varieties, such as several growing in the Mediterranean area, are sweeter and some are considered comparable to chestnuts, especially in Spain and Portugal. White Oak and Chestnut Oak are two of the sweeter types and the Black and Red Oak are more bitter tasting.

In Cervantes' Don Quixote, the Duchess wrote to Sancho Panza's wife:
"They tell me there are big acorns in your village; send me a couple of dozen or so, and I shall value them greatly as coming from your hand..."
Balanophagy is the practice of eating acorns.
According to Greek legend, acorns were a staple food of the Golden Age. They were used as an inferior coffee substitute during the American Civil War. Today they are used mostly to fatten hogs.
There are over 450 varieties of acorn, many of which have been used for food. They are native to all continents except Australia.
There are 262 people in the U.S. listed on whitepages.com with the last name 'Acorn'
(Mark Morton, 'Gastronomica', Fall 2010)
Acorns are high in carbohydrates, and were used as food primarily during times of famine. They are an important source of food for local wildlife.
In 1945 Japan organized school children to gather more than 1 million tons of acorns to make into flour due to dwindling stocks of rice and wheat.
To use: Gather acorns when they are ripe, in autumn. Remove the shells and the caps, and boil the acorns for at least 2 hours, changing the water several times. This removes the bitterness. They may then be roasted in the oven for one hour or so at 350 degrees F. They are now ready to eat or ground into flour.

FREE Magazines
and other Publications
An extensive selection of free magazines and other publications
FOOD TRIVIA and FOOD FACTS
Please feel free to link to any pages of FoodReference.com from your website.
For permission to use any of this content please E-mail: [email protected]
All contents are copyright © 1990 - 2023 James T. Ehler and www.FoodReference.com unless otherwise noted.
All rights reserved. You may copy and use portions of this website for non-commercial, personal use only.
Any other use of these materials without prior written authorization is not very nice and violates the copyright.
Please take the time to request permission.
CULINARY SCHOOLS
& COOKING CLASSES
From Amateur & Basic Cooking Classes to Professional Chef Training & Degrees
FoodReference.com (since 1999)
FOOD TRIVIA and FOOD FACTS SECTION