BEAVER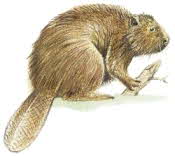 Beaver tail is said to taste like roast beef.

The skeleton of a Pleistocene giant beaver was unearthed by construction workers in 1938 in St. Paul, Minnesota. It would have been about 8 feet long and weighed over 450 pounds.

Beaver was formerly hunted for its meat, in addition to its fur.

The Catholic church classed beaver meat the same as water fowl, which meant it could be eaten during Lent.
Because of its scaly tail, in 1760 the Faculty of Divinity in Paris classified beaver as a fish, meaning it could be eaten during Lent and other fast days.
In France beaver meat was made into pate and preserves.

Beaver tail was considered a delicacy by American colonists.

The Beaver (Castor canadensis) was designated as the Official Animal of Oregon in 1969.

The Beaver (Castor canadensis) was designated as the Official State Animal of New York in 1975.

CULINARY SCHOOLS
& COOKING CLASSES
From Amateur & Basic Cooking Classes to Professional Chef Training & Degrees - Associates, Bachelors & Masters - More than 1,000 schools & classes listed for all 50 States, Online and Worldwide
FOOD TRIVIA and FOOD FACTS
Please feel free to link to any pages of FoodReference.com from your website.
For permission to use any of this content please E-mail: [email protected]
All contents are copyright © 1990 - 2023 James T. Ehler and www.FoodReference.com unless otherwise noted.
All rights reserved. You may copy and use portions of this website for non-commercial, personal use only.
Any other use of these materials without prior written authorization is not very nice and violates the copyright.
Please take the time to request permission.
FoodReference.com (since 1999)
FOOD TRIVIA and FOOD FACTS SECTION