BARRACUDA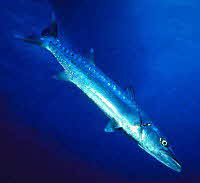 Barracuda are about 20 species of long, thin, fierce fish, with sharp fang-like teeth. They range in size up to 6 feet long and up to 150 pound. They are found in the warm waters of the Pacific, Atlantic and Caribbean waters.
The largest Barracuda caught by rod was a great Barracuda that weighed 85 pounds, caught off Christmas Island in the Indian Ocean. It was caught on April 11, 1992.
Barracuda is one of the fish that can accumulate a toxin which originates from a specific species of algae (dinoflagellate). See: Ciguatera Poisoning.