CLASSIC CHICKEN PAPRIKA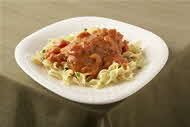 This updated version of a classic recipe introduces you to the sweet flavor of antioxidant super power paprika in a simple, one-dish meal.
Prep Time: 10 minutes
Cook Time: 20 minutes
Makes 4 servings.

Ingredients
• 1 pound small boneless skinless chicken breast halves or boneless skinless chicken thighs
• 2½ teaspoons McCormick® Paprika, divided
• 1/2 teaspoon Sea Salt using McCormick® Sea Salt Grinder
• 1/8 teaspoon McCormick® Ground Black Pepper
• 1 tablespoon olive oil
• 1 cup chopped onion
• 1 can (14½ ounces) diced tomatoes, undrained
• 1/3 cup light cream
• Hot cooked noodles (optional)
• Chopped parsley (optional)

Directions
SEASON chicken with 1/2 teaspoon of the paprika, sea salt and pepper.

HEAT oil in large nonstick skillet on medium-high heat. Add chicken; cook 3 minutes per side or until browned. Remove chicken from skillet. Set aside. Add onion to skillet; cook and stir 3 minutes.

STIR in tomatoes and remaining 2 teaspoons paprika. Bring to boil. Return chicken to skillet. Reduce heat to low; cover and simmer 8 to 10 minutes or until chicken is cooked through. Stir in cream until well blended. Serve over noodles and sprinkle with chopped parsley, if desired.

Nutrition Information Per One Serving:
255 Calories, Fat 11g, Protein 29g, Carbohydrates 10g, Cholesterol 86mg, Sodium 477mg, Fiber 3g

Recipe courtesy of McCormick® - Spices & Seasonings - www.mccormick.com/