CHICKEN AND RICE L'ORANGE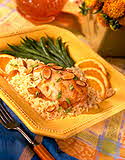 "Rice to the Rescue!" Recipe Contest Grand Prize Winner - Debbie Vanni
Yield: Makes 4 servings.

Ingredients
• 1 cup uncooked rice
• 1 cup orange juice
• 1 cup water
• 1 teaspoon salt
• 3 tablespoons butter, divided
• 1/4 cup sliced almonds
• 4 boneless, skinless chicken breast halves
• 1/4 cup orange marmalade
• 1/4 cup sliced green onions

Directions
Combine rice, orange juice, water and salt in a 2- to 3-quart saucepan. Heat to boiling; stir once or twice. Reduce heat; cover and simmer 15 minutes.

While rice is cooking, melt 1 tablespoon butter in large skillet over medium-high heat. Add almonds and cook and stir until golden, about 2 to 3 minutes. Remove almonds and set aside.

Melt remaining 2 tablespoons butter in skillet. Add chicken; cook until brown on both sides. Add orange marmalade to skillet and stir to coat chicken. To serve, spoon rice onto plate, top with chicken. Sprinkle with toasted almonds and green onions.

Nutrition Facts
Calories 524
Total Fat 17g
Cholesterol 99mg
Sodium 774mg
Total Carbohydrate 59g
Dietary Fiber 2g
Protein 33g

USA Rice Federation (www.usarice.com)