CHICKEN WITH CALIFORNIA PISTACHIO SAUCE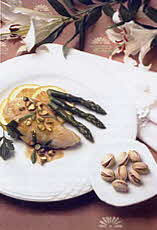 Makes 4 servings.
Ingredients
• 2 Whole chicken breasts, skinned, boned and halved
• 1/4 teaspoon Freshly ground black pepper
• 1 tablespoon Oil
• 1/2 cup Orange juice
• 2 tablespoons Water
• 2 teaspoons Balsamic vinegar
• 2 Green onions, thinly sliced
• 1/4 cup Sunkist® Pistachio Kernels, coarsely chopped

Directions
Pound chicken breasts to 1/2-inch thickness.
Season with pepper.

Saute in oil 2 to 3 minutes on each side, or until browned.

Add orange juice, water and balsamic vinegar and simmer covered for 10 minutes.

Remove chicken to a platter and keep warm.

Add green onions and pistachios to pan and cook over medium heat until slightly thickened.

Pour the sauce over chicken and serve.

recipe courtesy of pistachiohealth.com