CHICKEN BOURBON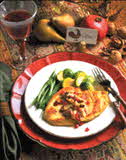 Yield: 8 servings
Ingredients
• 8 frozen, boneless skinless chicken breast halves, about 3 lbs., thawed
• 4 Tbsp. flour
• 4 Tbsp. butter
• 4 Tbsp. shallots, minced
• 2 medium pears, finely chopped
• 4 c. oyster mushrooms, chopped
• 4 Tbsp. bourbon or whiskey
• 2 c. dry white wine
• 2 c. chicken broth
• 1/2 tsp. salt, divided
• 1/2 tsp. freshly ground pepper, divided
• 6 Tbsp. toasted walnuts, chopped

Directions
Instead of preparing dish in 2 batches, you will get better results if you work 2 pans simultaneously; divide ingredients between pans.

Lay chicken breasts between sheets of plastic wrap and pound to 1/4-inch thickness. Sprinkle with 1/4 tsp. salt and pepper. Dredge chicken in flour, patting off excess.

In 2 large skillets over medium heat, warm 2 tablespoons butter in each pan until melted. Add chicken, 4 halves per pan, and cook until nicely browned on both sides, about 1 minute per side. Remove chicken and set aside until needed.

Reduce heat to low, divide shallots and pear between pans, sautéing for 2 minutes. Then add mushrooms to each and sauté for 2 minutes. Divide bourbon, Chardonnay and chicken broth between pans, increase heat to high and let sauce boil until slightly thickened and reduced by half, about 5 minutes.

Return chicken to sauce, reduce heat to low and simmer until chicken is firm and cooked through, about 3 minutes. Season with remaining salt and pepper to taste. Place each chicken breast on a plate and divide sauce among them. Sprinkle with walnuts and serve immediately.

National Frozen & Refrigerated Foods Association
Courtesy of House of Raeford