BLOODSHOT EYEBALL CUPCAKES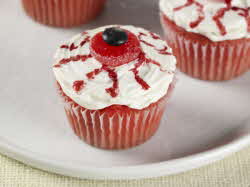 Prep Time: 30 minutes
Cook Time: 20 minutes
Makes 24 cupcakes.

INGREDIENTS
• 1 package (18¼ ounces) red velvet cake mix
• 1 container (16 ounces) cream cheese or vanilla frosting
• McCormick Assorted Food Colors and Egg Dye
• Assorted decorations, such as red ring-shaped candies and black candy-coated pieces

DIRECTIONS
1. Prepare cake mix as directed on package.

2. Bake as directed on package for cupcakes. Cool cupcakes on wire rack.

3. Frost cupcakes. Place a ring-shaped candy in the middle of each cupcake for the iris. Attach a candy-coated piece with some frosting for the pupil. Place small amount of red food color in a disposable paper cup. Using a toothpick, draw "bloodshot" lines in the white frosting. Or, tint any remaining white frosting red with red food color. Spoon frosting into small plastic resealable plastic bag. Snip a small corner from bag. Pipe frosting to create the bloodshot lines.

Recipe & photo courtesy of McCormick & Co.