Vegetarian Coffin Sandwiches with Walnut Pesto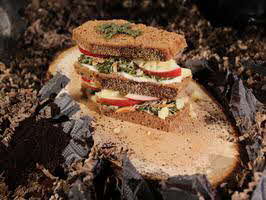 Yield: 4 servings
Prep Time: 8 minutes
Cook Time: 3 minutes
Ease of Preparation: Easy
Recipe courtesy of Nadia G
INGREDIENTS
Pesto
• 2 cups of basil, packed
• 1/2 cup chopped walnuts
• 2 cloves of garlic, minced
• 1/4 cup walnut oil
• 1/4 cup parmesan, grated
• 2 tablespoons of olive oil

Sandwiches
• 1 large loaf pumpernickel bread
• Mayonnaise
• 1 cup almond slivers, toasted
• 2 cups alfalfa sprouts
• 8 McIntosh apples, sliced
• 8 slices brie

Recipe tools
• Food processor

DIRECTIONS
Making the pesto: in a processor pulse basil, walnuts, garlic, and walnut oil until combined. Add parmesan and olive oil and pulse again.

Making the sandwich:
Cut pumpernickel into 1/2 inch slices, then into coffin shapes. On each slice of bread, spread a layer of mayo, a layer of pesto, a sprinkling of almonds, alfalfa sprouts, a layer of apples, and a slice of brie.

Place another coffin-shaped bread slice on top and repeat for another layer. Top off with a final coffin slice.

Nadia G's Bitchin' Kitchen: www.bitchinlifestyle.tv
also Cooking Channel: www.cookingchanneltv.com/