CANDY CORN CUPCAKES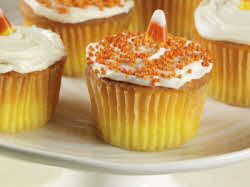 Prep Time: 30 minutes
Cook Time: 20 minutes
Makes 24 servings.

INGREDIENTS
• 1 package (18¼ ounces) white cake mix
• 2 teaspoons McCormick Pure Vanilla Extract
• McCormick Assorted Food Colors and Egg Dye
• 1 container (16 ounces) vanilla frosting
• Assorted decorations, such as orange sprinkles and candy corn

DIRECTIONS
1. Prepare cake mix as directed on package, adding vanilla. Divide batter in half. Tint one batch yellow with 1/3 teaspoon yellow food color. Tint second batch orange with 1/4 teaspoon yellow food color and 1/8 teaspoon red food color.

2. Fill each paper-lined muffin cup 1/3 full with yellow batter. Gently add orange batter on top of yellow batter, filling each muffin cup 2/3 full. Bake as directed on package for cupcakes. Cool cupcakes on wire rack.

3. Frost cupcakes. Decorate with sprinkles and candy corn.

Test Kitchen Tip:
For easier measurement, 1/4 tsp. Food Color = 20 to 25 drops

Recipe & photo courtesy of McCormick & Co.