RED VELVET VAMPIRE CUPCAKES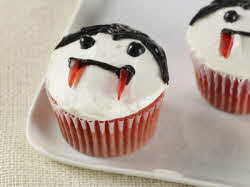 Prep Time: 30 minutes
Cook Time: 20 minutes
Makes 24 cupcakes.

INGREDIENTS
• 1 package (18¼ ounces) red velvet cake mix
• 1 container (16 ounces) cream cheese or vanilla frosting
• McCormick Black Food Color
• Assorted decorations, such as black jelly beans and red gummy candies.

DIRECTIONS
1. Prepare cake mix as directed on package.

2. Bake as directed on package for cupcakes. Cool cupcakes on wire rack.

3. Divide frosting in half. Use half of the frosting to spread a thin layer on cupcakes. Tint remaining frosting black with 1/2 teaspoon black food color. Spoon frosting into small plastic resealable plastic bag. Snip a small corner from bag. Pipe frosting in the shape of a widow's peak for the vampire's head. Pipe a line of frosting for the mouth. Use jelly beans for the eyes and gummy candies, cut into triangles, for the fangs.

Test Kitchen Tip:
For easier measurement, 1/4 tsp. Food Color = 20 to 25 drops

Recipe & photo courtesy of McCormick & Co.