Baked Apples with Pumpkin Seeds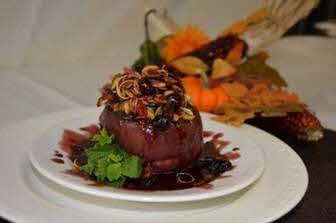 INGREDIENTS
• Roma apples
• 1 cup red wine (dry)
• 3 cups sangria wine
• 1 ½ cups dried cranberries
• ¼ cup currents
• 1 cup sugar
• 1 tbsp. cinnamon
• 1 cup honey
• 2 tbsp. orange zest
• 1 cup pumpkin seeds

DIRECTIONS
1. Core the apple to remove the seeds. Score with the tip of a small knife in the middle of the apple and around it – this will help bake the apple evenly.

2. Pell the skin an inch around the top of the apply.

3. Meanwhile, in a sauté pan put the red wine and sangria wine. When half is consumer, remove from heat and set aside.

4. In a roasting pan, place the peeled apples (inside side up). In the center of each apple, add sugar. Then pour cinnamon powder around each apple.

5. In a 300° F pre-heated oven bake the apples for 15 minutes.

6. Meanwhile, in a medium size bowl, toss together the cranberries, currents, honey, pumpkin seeds and orange zest. (This will act as a topping for the apples)

7. Remove apples from the oven and top each with ¼ cup of the honey mixture.

8. Put baking pan with apples back in the oven for an additional 10 minutes. Remove from the oven and serve either hot or cold.

* Recipe courtesy of Maria Zoitas, creator of "Maria's Homemade" line of prepared food sold exclusively at Westside Market NYC
www.wmarketnyc.com/