CRUSTED PUMPKIN SEEDS CHICKEN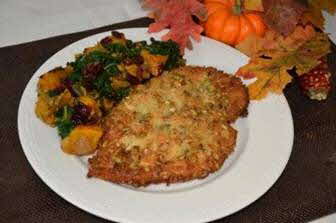 INGREDIENTS
• 2 chicken breasts
• 2 cups of panko
• 2 cups of pumpkin seeds
• 4 whole eggs beaten
• 1 cup all purpose flour
• 1 tbsp. salt (kosher)
• 1 tbsp. fine chopped oregano leaves
• 1 tbsp. orange zest
• 1 cup sunflower oil
• 1 tbsp. black pepper

DIRECTIONS
1. You need 2 chicken breasts, sliced in half. Pound them down lightly until they are ¼ inch thick.

2. In 3 separate bowls, put flour in one, eggs in another and the panko, pumpkin seeds, salt, black pepper, chopped oregano and orange zest in the third bowl

3. Coast the chicken breast with flour, then dip into beaten eggs, followed by into the panko bowl.

4. In a sauté pan, heat up the oil at medium heat. Lightly sauté the coated chicken breast until it reaches a golden color – about 1 minute on each side.

5. In the meantime, pre-heat oven at 350° F for 10 minutes. Place the chicken breast onto a sheet pan and cook it for an additional 10-15 minutes.
** Note: You can also use your favorite fish fillet instead of chicken. You may put it in the oven for less time or you may finish in a pan.

* Recipe courtesy of Maria Zoitas, creator of "Maria's Homemade" line of prepared food sold exclusively at Westside Market NYC
www.wmarketnyc.com/