BLACK CAT COOKIES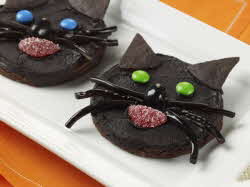 Prep Time: 30 minutes
Cook Time: 12 minutes per batch
Makes 3 dozen.

INGREDIENTS
· 3½ cups flour
· 1½ teaspoons baking powder
· 1/2 teaspoon salt
· 1½ cups sugar
· 1 cup (2 sticks) butter, softened
· 2 eggs
· 2 teaspoons McCormick Pure Vanilla Extract
· 4 ounces unsweetened baking chocolate, melted
· 1 container (16 ounces) chocolate frosting
· McCormick Black Food Color
· Assorted decorations, such as black string licorice, black jelly beans, chocolate wafer cookies, miniature candy-coated chocolate pieces and gum drops

DIRECTIONS
1. Mix flour, baking powder and salt in large bowl. Set aside. Beat sugar and butter in large bowl with electric mixer on medium speed until light and fluffy. Add eggs and vanilla; mix well. Gradually beat in flour mixture on low speed until well mixed. Add chocolate; mix well.

2. Roll out dough on lightly floured surface to 1/8-inch thickness. Cut out rounds with 2 1/2-inch round cookie cutter. Place 2 inches apart on ungreased baking sheets.

3. Bake in preheated 350°F oven 10 to 12 minutes or until cookies are set. Cool on baking sheets 1 minute. Remove to wire racks; cool completely.

4. Tint frosting black with 1/2 teaspoon black food color. Spread onto cooled cookies. To decorate cookies to resemble cat faces, use miniature candy-coated chocolate pieces for the eyes, jelly beans for the nose, gum drops for the mouth, string licorice for the whiskers and cut-up chocolate wafers for the ears.
Test Kitchen Tip:
For easier measurement, 1/4 tsp. Food Color = 20 to 25 drops
Recipe & photo courtesy of McCormick & Co.