Oven Roasted Butternut Squash With Toasted Pumpkin Seeds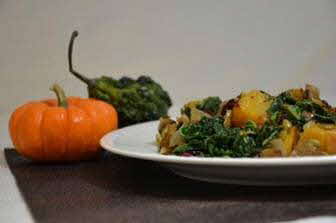 INGREDIENTS
• 1 medium size butternut squash – about 2 lbs peeled, seeded and cut into inch cubes
• 1 medium size white onion peeled and ¼ inch diced
• ½ cup dried cranberries
• 1 bunch of kale, remove stems and slice into one inch wide pieces
• ½ cup shelled toasted pumpkin seeds
• ½ tbsp. clove powder
• ½ tbsp. nutmeg
• 1 tbsp. salt (kosher)
• ½ cup olive oil
• ½ gallon water

DIRECTIONS
1. In a medium bowl, toss the butternut squash with salt, clove, nutmeg and ¼ cup olive oil.

2. Place the butternut squash in a 9x8 sheet pan and bake for 20-25 minutes in a pre-heated oven at 400° F, then remove and leave at room temperature.

3. In the meantime, pouch the kale for 3-4 minutes in ½ gallon of broiled water. Remove the kale and place in cold water, drain and set aside.

4. In a sauté pan, heat the 1.4 cup of oil left, sauté the onion for about 5 minutes and add cranberries. Sauté for 2 minutes and add the pumpkin seeds, cooking for one.

5. Add and mix all ingredients together in a bowl and serve.

* Recipe courtesy of Maria Zoitas, creator of "Maria's Homemade" line of prepared food sold exclusively at Westside Market NYC www.wmarketnyc.com/