See also Pumpkin Pie Recipes
PUMPKIN LATTICE TART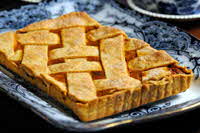 Here's a lovely, tasty alternative to the traditional Thanksgiving pumpkin pie.
Why try? This dessert will please the traditionalists who insist on having pumpkin pie, while appealing to those who'd like to try something just a little bit different.
Foodie Byte: Just like a classic pumpkin pie, a generous dollop of whipped cream really tops off this tart nicely.
Wine Pairing: Tawny Port. Try a 10- or 20-year-old tawny port with the rich notes of hazelnut. That's what makes the Tawny Port ideal for this dessert tart . . . or for your favorite pumpkin pie! For more about wine pairings, see Wineexperience.com.
Prep Time: 20 minutes
Cook Time: 1 hour
Serves: 6

Ingredients
• 2 9-inch refrigerated pie dough discs
• 1 cup pumpkin puree, canned, unsweetened
• 3/4 cup heavy cream
• 1 egg, large, lightly beaten
• 1/2 cup dark brown sugar
• 1 teaspoon ground cinnamon
• 1/4 teaspoon ground ginger
• 1/4 teaspoon ground nutmeg
• 1/4 teaspoon salt
• 2 teaspoons sanding sugar
• 1 teaspoon cinnamon
Preparation
1. Preheat oven to 425ºF.

2. Roll out 1 pie dough disc on a lightly floured surface to 1/8-inch thick. Press crust into tart pan and prick bottom several times with a fork.

3. Bake for 10 to 15 minutes, or until lightly golden. Allow to cool.

4. Combine pumpkin, cream, egg, brown sugar, cinnamon, ginger, nutmeg and salt until completely blended. Pour into cooled tart shell.

5. To make lattice -- roll out remaining dough disc 1/8-inch thick. Using a pastry wheel or knife, cut ten 3/4-inch wide strips (the number of strips required will vary depending on your spacing). Weave strips on top of pumpkin filling.

6. Sprinkle with sanding sugar and cinnamon.

7. Bake tart for 15 minutes. Reduce oven temperature to 350ºF and bake an additional 30 to 35 minutes or until filling is set.

8. Allow tart to completely cool before serving.

Recipe & Photo courtesy of the FoodChannel.com