GHOSTS IN THE GRAVEYARD CUPCAKES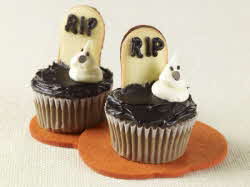 Prep Time: 30 minutes
Cook Time: 20 minutes
Makes 24 cupcakes.

INGREDIENTS
• 1 package (18¼ ounces) white cake mix
• 1 teaspoon McCormick Pure Vanilla Extract
• McCormick Black Food Color
• McCormick Assorted Food Colors and Egg Dye
• 2 containers (16 ounces each) vanilla frosting
• 24 oval-shaped cookies
• Assorted decorations, such as chocolate sprinkles and miniature chocolate chips.

DIRECTIONS
1. Prepare cake mix as directed on package, adding vanilla. Tint cake batter grey with 1/4 teaspoon black food color.

2. Bake as directed on package for cupcakes. Cool cupcakes on wire rack.

3. Tint 1 container frosting black with 1 teaspoon black food color. Frost cupcakes, reserving 1/4 cup of frosting. Spoon reserved frosting into small plastic resealable plastic bag. Snip a small corner from bag. Pipe "RIP" onto top half of each cookie. Push tombstone cookies gently into cupcakes.

4. For the ghost, spoon remaining container of white frosting into large resealable plastic bag. Snip a corner from bag. For the body of the ghost, pipe 1/2-inch dollop next to tombstone. Pipe a smaller dollop on top, lifting while squeezing bag so that top of dollop is pointed. This is the head of the ghost. Use chocolate sprinkles and chocolate chips to decorate the ghost's face.

Test Kitchen Tip:
For easier measurement, 1/4 tsp. Food Color = 20 to 25 drops

Recipe & photo courtesy of McCormick & Co.