WICKED WITCH CUPCAKES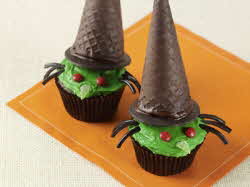 Prep Time: 30 minutes
Cook Time: 20 minutes
Makes 24 cupcakes.

INGREDIENTS

• 1 package (18¼ ounces) chocolate cake mix
• 1 teaspoon McCormick Pure Vanilla Extract
• 24 chocolate ice cream cones
• 4 ounces semi-sweet baking chocolate, melted
• 24 chocolate wafer cookies
• 1 container (16 ounces) vanilla frosting
• McCormick Assorted Food Colors and Egg Dye
• Assorted decorations, such as green gum drops, red candy-coated pieces and black string licorice.

DIRECTIONS
1. Prepare cake mix as directed on package, adding vanilla.

2. Bake as directed on package for cupcakes. Cool cupcakes on wire rack.

3. Dip open end of each ice cream cone into melted chocolate. Attach to chocolate wafer cookies to make the witch's hat. Let stand 30 minutes to allow chocolate to harden. Tint frosting green with 1/2 teaspoon green food color. Frost cupcakes. Place witch's hat on each cupcake. Use candy-coated pieces for the eyes and gum drops, cut into triangles, for the nose. Cut string licorice into assorted lengths for the hair.

Test Kitchen Tip:
For easier measurement, 1/4 tsp. Food Color = 20 to 25 drops

Recipe & photo courtesy of McCormick & Co.