PUMPKIN PATCH CUPCAKES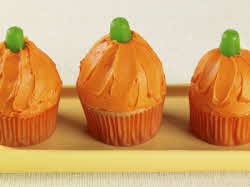 Prep Time: 30 minutes
Cook Time: 20 minutes
Makes 24 cupcakes.

INGREDIENTS
• 1 package (18¼ ounces) white cake mix
• 1 teaspoon McCormick Pure Vanilla Extract
• McCormick Assorted Food Colors and Egg Dye
• 1 container (16 ounces) vanilla frosting
• 24 mini donuts
• 24 green gum drops

DIRECTIONS
1. Prepare cake mix as directed on package, adding vanilla. Tint cake batter orange with 1/2 teaspoon yellow food color and 1/4 teaspoon red food color.

2. Bake as directed on package for cupcakes. Cool cupcakes on wire rack.

3. Tint frosting orange using 1/4 teaspoon yellow food color and 1/8 teaspoon red food color. Attach a mini donut to cupcake with some frosting. Frost entire donut and top of cupcake. Press ridges into the frosting with a small knife to resemble a pumpkin. Use a gum drop for the stem.

Easy Jack-O-Lantern Cupcakes:
Omit mini donuts. Frost cupcakes with orange-tinted frosting. Use candy-coated pieces to decorate the face and green gum drops for the stems.

Test Kitchen Tip:
For easier measurement, 1/4 tsp. Food Color = 20 to 25 drops

Recipe & photo courtesy of McCormick & Co.