This recipe was sent in by newsletter subscriber Gonzalo Ramirez
SPANISH TORTILLA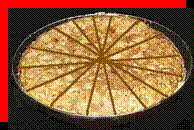 Prepared correctly, is a delicious starter, as tapas, and even great for a wholesome breakfast. It should be served at room temperature
Gonzalo Ramírez, Venezuela-Malaysia

Basic ingredients:
• 1/2 cup olive oil
• four large potatoes (peel and diced pieces about 1 cm thick)
• *Sea salt ground, and black pepper to taste
• one large onion, diced
• six large eggs
• 1/4 cup of milk

Directions
Heat the oil in a 10-inch skillet, add potato pieces, and stir softly with spatula to avoid sticking, Add the onions and COOK slowly, medium flame. Turn now and then until potatoes are tender, and the onions are golden, but NOT brown. They must be loose.

Beat eggs in a large bowl with a fork adding the milk. Sea salt and pepper to taste.
Drain potatoes from the oil. Add potatoes to beaten eggs mixture, stirring them so that eggs cover them completely. Let it sit for 15 minutes.
Heat 4 tbsps of the oil in large skillet and make sure it is spread evenly.
Add potato-onion-egg mixture, spreading quickly.

Lower the heat to medium-low. It is important to shake pan to prevent sticking. Cover with a lead and wait for 5 minutes, with a plate on top of the skillet, flip to cook other side, adding another tbsp of oil.
Brown on the other side.
Another 5 minutes and turn the fire off and let rest covered for 15 minutes, uncover before serving in a plate.

Remember the final look is an inch thick "cake" of fried potatoes mixed with fried eggs and onions.-

-small pieces of red & green peppers and bits of crispy bacon are optional and can be added to the initial egg mix, They will add some flavor and color.

After cooking the tortilla cut into pizza-like triangles to serve 8to 10 or 12 to 14 people, or cut into squares. It should be served at room temperature. It can be cook couple hours before serving.

Buen Provecho!!!