CRUNCHY COCONUT SHRIMP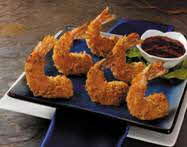 An easy appetizer for Holiday parties.
Prep Time: 10 min.
Cook Time: 10 min.
Makes 4 servings

Ingredients
• 1 1/3 cups FRENCH'S French Fried Onions
• 1/3 cup flaked, sweetened coconut
• 1/2 cup all-purpose flour
• 1 lb. large shrimp, shelled and deveined
• 2 egg whites, beaten

Directions
1. PLACE French Fried Onions and coconut into plastic bag. Lightly crush with hands or rolling pin. Transfer to pie plate or waxed paper.

2. PLACE flour in another plastic bag. Add shrimp; shake to coat.

3. DIP shrimp into egg whites. Coat with onion mixture, pressing firmly to adhere.

4. BAKE shrimp at 400°F for 10 min. until shrimp are fully cooked and crispy.

Variation: Add 1 tsp. curry powder to crushed onions.

Recipe & Photo Courtesy of French's French Fried Onions
Look for French's Original and Cheddar French Fried Onions in the canned vegetable aisle at your favorite supermarket!