COCONUT SHRIMP WITH GINGER MANGO SAUCE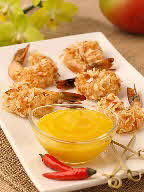 Chili oil gives this sweet dish a surprise kick but is tempered by the tangy, sweet mango sauce, providing a flavor combination sure to stimulate even the toughest critic's palate.
Prep Time: 20 minutes
Cook Time: 6 - 8 minutes
Servings: 4 main dish or 8 appetizer servings
INGREDIENTS:
Tangy Mango Sauce
• 1 large ripe mango, peeled and pitted
• 2 tablespoons rice vinegar (unseasoned)
• 2 tablespoons honey
• 1 teaspoon grated fresh ginger

Coconut Shrimp
• 1 pound large raw tail on shrimp, peeled and deveined
• 1/3 cup honey
• 2 teaspoons soy sauce
• 2 teaspoons hot chili oil
• 2 cups flaked coconut

DIRECTIONS
Puree mango, vinegar, honey and ginger in a blender or food processor; set aside.

Preheat oven to 400°F and spray a large baking sheet with nonstick cooking spray.

Rinse shrimp and pat very dry between paper towels.

In a medium bowl stir together honey, soy sauce and chili oil.

Dip shrimp in mixture then roll in coconut, pressing so that it sticks to the shrimp; place on baking sheet and sprinkle with some of the excess coconut. Bake for 6 to 8 minutes or until shrimp is firm and coconut is golden brown. Carefully remove from baking sheet with a spatula to a platter.

Serve mango sauce on the side for dipping.

Nutrition:
231 calories (28% calories from fat), 7 g total fat, 86 mg cholesterol, 223 mg sodium, 30 g carbohydrates, 2 g fiber, 12 g protein

Recipe courtesy of the National Mango Board (www.mango.org)