CALIFORNIA WALNUT GRANOLA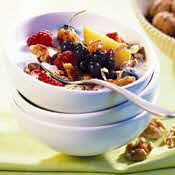 This crunchy, sweet granola makes a great topping for yogurt. Add dried blueberries to boost color and antioxidants.
Prep Time: 10 min
Servings: 8

Ingredients:
• 4 cups quick cooking (not instant) rolled oats
• 2 cups natural wheat bran
• 1½ cups chopped California walnuts
• 1/2 cups liquid honey
• 2 tsps vanilla
• 1½ cups raisins (or dried cranberries, chopped dried apples, apricots or other mixed dried fruit)
• Fresh fruit for garnish, as desired

Directions:
1. Preheat oven to 300°F

2. In a large bowl, stir together rolled oats, bran and walnuts.

3. In a small microwaveable bowl, combine honey and vanilla; microwave on high for about 20 seconds or more until runny.
Stir to mix; pour over dry ingredients and toss to coat well.

4. Spread granola evenly in a large shallow baking pan. Bake in 300°F oven for about 30 minutes, or until golden, stirring two or three times.

5. Cool completely; granola will crisp as it cools.

6. Stir in raisins or other dried fruit; store in airtight container.
Recipe courtesy of California Walnut Board