ZESTY POTATO SALAD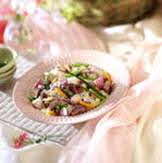 Prep Time: 15 min.
Cook Time: 12 min.
Chill Time: 1 hour
Makes 6 servings (about 5 cups)
Ingredients
• 1 1/2 lbs. red potatoes, cut into small cubes
• 1 1/4 tsp. salt, divided
• 1/2 cup light sour cream
• 1/3 cup French's® Honey Mustard
• 1/3 cup plain nonfat yogurt
• 1 cup sliced celery
• 1/2 cup halved sugar snap peas
• 1/2 cup thinly sliced yellow or red bell pepper
• 1/4 cup diced red onion

Directions
1. BOIL potatoes with 1/2 tsp. salt in water to cover for 12 min. until potatoes are tender. Drain and cool.

2. COMBINE sour cream, mustard, yogurt and 3/4 tsp. salt in large bowl. Toss in potatoes, celery, peas, bell pepper and onion; mix well.

3. CHILL 1 hour before serving.

Nutritional Analysis Per Serving: 175 Calories, 2 g Fat, 1 g Saturated Fat, 7 mg Cholesterol, 6 g Protein, 32 g Carbohydrates, 3 g Dietary Fiber, 607 mg Sodium.

Recipe courtesy of French's® Foods
French's Mustard is the perfect, all natural way to add flavor to your family's favorites. French's has been America's favorite mustard for over 100 years. Since its introduction at the 1904 World's Fair in St. Louis, Missouri, French's Mustard has been adding flavor to America's favorite sandwiches and recipes—without adding any fat. French's® Mustard is available in Classic Yellow®, Honey, Honey Dijon, Spicy Brown, and Horseradish flavors.