Coleman's Spicy Egg and
Potato Salad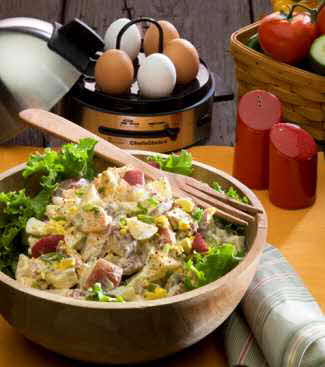 Take center stage at your next gathering or event with this delicious savory side salad from "Flavors of America" TV Chef Jim Coleman and Chef'sChoice.
Chef Coleman teamed up with Chef'sChoice to create this flavorful "Spicy Egg & Potato Salad" as a guaranteed crowd pleaser, providing a spicy new twist on a traditional dish. Easy to make with just a few key ingredients, it's a perfect side dish for any gathering.
Serves 6.
INGREDIENTS
• 2 cups medium diced (scrubbed or peeled) new potatoes, approx. 1/3 pound
• 7 jumbo large eggs, fully cooked
• ½ cup mayonnaise
• 2 Tbsp. Dijon mustard
• 3 Tbsp. finely chopped shallot
• 1 large jalapeno pepper (or favorite "hot-pepper") finely minced
• 1 Tbsp. green onions finely chopped
• 2 tsp. rice wine vinegar
• ¼ tsp. kosher salt, or to taste
• ¼ tsp. each of white, black and red pepper, or to taste

DIRECTIONS
For Potatoes:
In large saucepan, over high heat, bring enough salted water to cover the potatoes to a boil. Add potatoes and reduce heat, simmering 10-15 minutes (maybe more or less depending on the size you cut the potatoes) or until tender. Drain the potatoes and let cool to room temperature.
Make the egg salad:
Peel eggs and coarsely chop them to approximately the same size as the potatoes. (The key to this dish is properly cooked eggs to the correct doneness. Be careful not to overcook the eggs).In a medium to large mixing bowl, whisk together mayonnaise, Dijon mustard, shallots, hot pepper, rice wine vinegar, salt and trio of pepper. Refrigerate 3 to 4 hours (longer is fine as well) to allow the flavors to "infuse".

An hour before serving, remove salad from refrigerator and gently fold in eggs, potatoes and green onions, lightly mixing until well combined.

For fuss-free perfect eggs, try the Chef'sChoice International Gourmet Egg Cooker Model 810.
Philadelphia-based Chef Jim Coleman hosts "A Chef's Table," a live weekly radio show broadcast on WHYY 91 FM and throughout the country over National Public Radio. Coleman's "Flavors of America" show airs in 50 million homes across the country.