WILD THYME SUMMER SALAD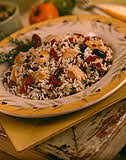 "Rice to the Rescue!" Recipe Contest Winner - Sharyn Hill
Yield: Makes 4 servings.

Ingredients
• 3 cups cooked rice
• 2 boneless, skinless chicken breasts, cooked and cut into 1-inch cubes
• 1 8 1/2-ounce jar sun-dried tomatoes, drained and chopped
• 1/3 cup chopped Kalamata olives
• 1/2 cup prepared vinaigrette
• 1/4 cup chopped thyme leaves

Directions
In large bowl, combine rice, chicken, tomatoes, olives, vinaigrette and thyme.

Toss well.

Nutrition Facts
Calories 461
Total Fat 22g
Cholesterol 59mg
Sodium 688mg
Total Carbohydrate 39g
Dietary Fiber 2g
Protein 26g

USA Rice Federation (www.usarice.com)