MANGO CHICKEN LETTUCE WRAPS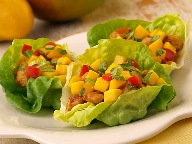 Servings: 4
Prep Time: 50 minutes (including 30 minutes chill time)
Cook Time: 15 minutes

Ingredients:
• ½ tablespoon sesame oil
• 1 pound boneless, skinless chicken breasts, chopped into small pieces
• 3 tablespoons soy sauce
• 2 ½ tablespoons rice vinegar
• 2 tablespoons honey
• 1 tablespoon grated fresh ginger
• ½ tablespoon minced fresh lemongrass
• 1 large ripe mango, peeled, pitted and chopped; divided
• 12 small butter lettuce leaves
• ¼ cup chopped red bell pepper
• 2 tablespoons sliced green onion tops
• 2 tablespoons freshly chopped cilantro

Instructions:
Heat sesame oil in a medium skillet over medium heat.

Add chicken and cook, stirring frequently, until lightly browned. Stir in soy sauce, vinegar, honey, ginger and lemongrass.

Finely chop half the mango and add to the skillet. Cook for 5 minutes or until sauce is very thick; let cool.

Spoon chicken into lettuce leaves and top each with remaining mango, bell pepper, green onion and cilantro.
Nutrition per serving: 337 calories (21% calories from fat), 8 g total fat, 65 mg cholesterol, 285 mg sodium, 45 g carbohydrates, 7 g fiber, 29 g protein

Recipe courtesy of the National Mango Board (www.mango.org)