MELISSA D'ARABIAN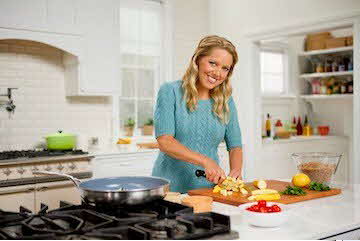 In August 2009, Melissa d'Arabian won season five of 'The Next Food Network Star', beating out thousands of hopefuls for the ultimate dream job: her own Food Network show, 'Ten Dollar Dinners'.

As a wife and a stay-at-home mother to her four young daughters, Melissa pairs her varied culinary and life experiences to provide food lifestyle solutions to today's families. Melissa makes her Cooking Channel debut in January 2012 as the host of 'Drop 5 lbs with Good Housekeeping'.

Due to her mother's schooling and career, Melissa moved around as a child living in Tucson, Ariz., San Diego, and Bethesda, Md. She received a Bachelor's Degree in Political Science at The University of Vermont in 1990 and went on to earn her MBA at Georgetown University in 1993 before launching a successful career in business consulting and finance.

She stopped working during her twin pregnancy in 2007. Melissa believes strongly in volunteering, her Christian faith and living her life with meaning and purpose. She and her family live just outside of San Diego.