Paula Deen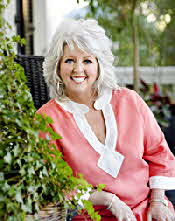 As a young girl in Albany, GA, Paula Deen lived an idyllic life with a loving family that included doting parents, grandparents, and a large extended family. If there was one consistent theme in the household it was laughter around the dinner table and great southern meals frequently cooked by Grandmother Paul. Little did Paula know that these special meals and Southern traditions would take her places she never dreamed.

After graduating from high school in 1965, Paula married her high school sweetheart and soon started a family that produced two sons. By her twenty-third birthday Paula's happy life spun out of control and tragedy took over her life. Both Paula's parents died unexpectedly within a year's time leaving Paula devastated and in charge of not only her young babies but also her younger brother Bubba. It was around this time of her life that Paula began to develop symptoms that are associated with agoraphobia. At times she felt so fearful and paralyzed that she was unable to step outside the safety boundaries of her home.

For twenty years, Paula battled her agoraphobia and her once loving marriage crumbled under the stress of a badly shaken family life. Left with two growing sons and no source of income, Deen reached into her Southern roots and drew inspiration from what she knew best - her kitchen stove.

Her culinary career began in June 1989 out of her kitchen with "The Bag Lady", a home-based lunch delivery service in Savannah, with the help of her two sons Jamie & Bobby. With $200 given to her by her husband, Paula spent fifty dollars on groceries, roughly forty dollars on a cooler, and the rest on a business license and incidentals.

In a few short years "The Bag Lady" was successful enough to search for a work space outside her kitchen. For five years, Paula prepared meals at a Best Western hotel in Savannah. It wasn't long before Paula started to develop a loyal following who loved her style of home-cooked Southern meals that nurtured the soul as much as the appetite. In 1996 the timing was right for her to open her own restaurant, The Lady and Sons, in downtown Savannah. Within a few years, the restaurant moved to a larger building in Savannah's historic district. It wasn't long before USA Today food critic Jerry Shriver named The Lady and Sons the "International Meal of the Year" in 1999.

In 1997, Deen published her first cookbook, The Lady & Sons Savannah Country Cookbook. As luck would have it, a major publishing house picked it up when one of their literary agents walked into the restaurant to escape a rainstorm. Shortly after that, Deen's cookbook was appearing on QVC. In the years to follow she published many more cookbooks, all of which made the national bestseller list. To date Deen has sold more than 8 million books in print. Most recently, her first children's cookbook Paula Deen's: My First Cookbook remained on the New York Times bestseller list for several months. Other popular titles include Paula Deen Celebrates, Paula Deen's Kitchen Classics, The Lady & Sons Just Desserts, and Paula Deen & Friends.

In addition Deen launched her magazine, 'Cooking with Paula Deen', in November 2005 and today is a category leader with a circulation of over one million, outselling competitors in bookstores and mainline newsstands. In this bi-monthly magazine Paula shares the warmth of her kitchen, delicious home-cooked recipes, gardening tips, and seasonal decorating ideas.

"Paula's Home Cooking" premiered on the TV Food Network on November 16, 2002. The program features Deen doing what she does best - being herself, teaching people how to bring joy into their kitchens and homes. With Deen it's about teaching viewers to bring out the best in their families and creating happy memories no matter what the budget is.

In Fall 2006, Deen launched her second program, "Paula's Party", on the Food Network. She invites guests to participate in her cooking classes. Viewers get an inside look of what makes Deen so special - a clever wit, her jovial laugh and sheer genius at making people feel good.

"Paula's Best Dishes" premiered on the Food Network in June 2008. During this show, Paula recreates viewer recipes while sharing personal stories and family traditions. Secrets from some of America's great cooks are revealed as she prepares these favorite dishes.

In March 2008, Meyer Corporation teamed up with Paula Deen to launch her Signature Collection of cookware, bake ware, cutlery, kitchen tools, teakettles, mixing bowls and other kitchen accessories. This collection reflects her immensely popular Southern approach to cooking and entertaining.

Paula Deen, award winning restaurateur, best-selling author, and TV celebrity cook has garnered widespread acclaim for her delicious down home cooking, seasoned with a generous dollop of Southern hospitality.