Tyler Florence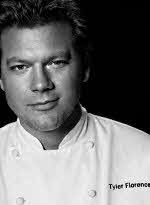 Chef Tyler Florence graduated from the prestigious culinary program at Johnson and Wales University. He immediately moved to New York where he honed his skills under the tutelage of premier chefs like Charlie Palmer at Aureole, Marta Pulini at Mad 61 and Rick Laakonen, ultimately moving on to become executive chef at Cafeteria.

The buzz about the charismatic young chef's food picked up steam and a fresh television network took notice. After 15 plus years as a Food Network star, Florence has taken his talent across the globe, finely tuning what is regarded as one of America's most important culinary voices. He has starred in such series as "How to Boil Water," "Food 911" and "Tyler's Ultimate." Most recently, he hosted season two of Food Network's "The Great Food Truck Race." He is a regular guest on CNN, NBC's "TODAY Show," "Good Morning America," "The View," "The Tonight Show" and more.

In July of 2008, Tyler opened his first kitchen retail shop, The Tyler Florence Shop, in Mill Valley, California with two other locations at San Francisco International Airport and in downtown Napa. In June 2010, Tyler opened his restaurant, Wayfare Tavern, in San Francisco's Financial District. Shortly after, he opened Rotisserie & Wine in downtown Napa with an outpost at San Francisco International Airport before moving on to open the historic El Paseo in Mill Valley in March 2011.

Most recently, Florence is partnering with Alexia Foods for the second year to help consumers make everyday meals extraordinary with the company's delicious line of premium, all-natural frozen potatoes, appetizers, breads and side dishes. ( www.alexiafoods.com )

Florence currently resides in Mill Valley, California with his wife Tolan and their three children.