Justin Fornal (Baron Ambrosia)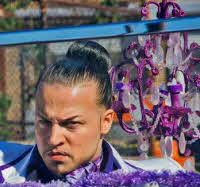 Baron Ambrosia was born Justin Fornal in Killingworth, Connecticut. He went to school for film at the University of Pittsburgh after which he moved to the Bronx, New York. After writing and directing two independently produced feature length films, he set off to Vietnam to document the world's most expensive food condiment Cà Cuông (a rare fragrant exudate extracted from giant water bugs). Feeling the documentary format was too dry, Fornal designed a new genre that would allow him to quench his thirst for knowledge while utilizing his cinematic imagination.

To sit at the helm of this new project, he created the dashing yet mischievous alter ego Baron Ambrosia. The Baron first appeared in the Fornal penned culinary podcast entitled Underbelly. Unlike other food programming, Underbelly followed the humorously dramatic Baron on a fictional adventure that was set in real restaurants, markets, and chef's homes. Instead of just being discussed, the cuisine being showcased would play a pivotal role in the Baron's dilemma.

Fornal wrote, directed, and produced eight episodes of the ten minute show with his own funds all the while working as a tea master and tobacconist. After becoming the #1 food podcast on iTunes, the show was picked up by BronxNet Television. With its new budget and network support, Fornal rechristened the show 'Bronx Flavor'. The program set out to document the uncelebrated food scene and small ethnic enclaves of New York's northernmost borough. Filming 34 episodes over the course of three years, the show received two Emmy nominations while Ambrosia was awarded the title of Culinary Ambassador to the Bronx by borough president Ruben Diaz Jr.

When not filming, Fornal can be found urban spelunking through the five boroughs, as well as embarking on research expeditions abroad. He has filmed and researched in such countries as Haiti, Liberia, Sierra Leone, Yemen, and Ecuador. He is currently a resident member of the National Explorer's Club. He is also the creator and president of the Bronx Pipe Smoking Society, a culinary group who holds an annual small game dinner that showcases alternative protein sources prepared by top chefs.