SAVORY GRILLED PORK TENDERLOIN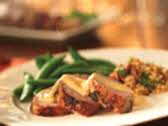 Prep Time: 10 min.
Cook Time: 20 min.
Marinate Time: 1 hour
Makes 4 servings

Ingredients
• 1 large navel orange
• 1/3 cup FRENCH'S® Spicy Brown Mustard
• 2 tbsp. cider vinegar
• 2 tbsp. salt free grill seasoning blend
• 1 tbsp. olive oil
• 1¼ lbs. pork tenderloin, fat trimmed
• 1/3 cup light sour cream
• 1/8 tsp. salt

Directions
1. GRATE rind and juice orange; reserve juice. Combine mustard, vinegar, seasoning blend, oil and orange rind in small bowl. Reserve 2 tbsp. mixture. Pour remainder into food storage bag.

2. ADD pork; seal bag. Marinate in refrigerator 1 to 2 hours. Discard marinade.

3. GRILL pork over medium-high heat about 20 min. or until no longer pink in center (155°F internal temperature). Let rest 10 min. before slicing.

4. MIX reserved 2 tbsp. mustard mixture, sour cream, salt and reserved juice. Serve with pork.

Nutritional Analysis Per Serving: 207 Calories, 7 g Fat, 3 g Saturated Fat, 83 mg Cholesterol, 30 g Protein, 3 g Carbohydrates, 0 g Dietary Fiber, 324 mg Sodium.

Recipe & Photo Courtesy of French's French Fried Onions