Blueberry Rum Marinated Pork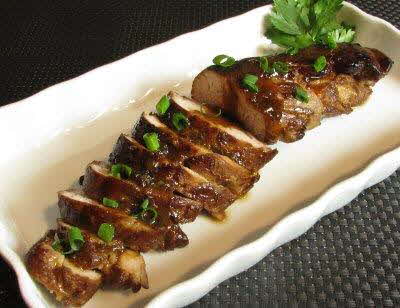 INGREDIENTS:
· 1 cup fresh blueberries
· 3/4 cup rum
· 1/4 cup lemon juice
· 2 garlic cloves
· 2 tablespoons brown sugar
· 1 tablespoon chopped sweet onion
· 1 tablespoon white vinegar
· 1 (16-ounce) package pork tenderloins
· 6 toasted bread slices

DIRECTIONS:
1. In a food processor, process blueberries, rum, lemon juice, garlic cloves, brown sugar, onion and white vinegar until smooth, stopping to scrape down sides. Pour mixture into large plastic freezer bag; add pork. Seal and chill at least 4 hours.

2. Remove pork from marinade.

3. Grill pork, covered with grill lid, over medium heat (300° to 350°) 11 to 13 minutes on each side or until a meat thermometer inserted in thickest portion registers 155°. Remove from grill. Loosely cover pork with foil; let stand 10 minutes. Cut pork into slices, and serve over toasted bread.

Recipe and photo courtesy of Caribbean Shopping Channel (www.caribbeanshoppingchannel.com )