PORK TENDERLOIN WITH CHERRY MARMALADE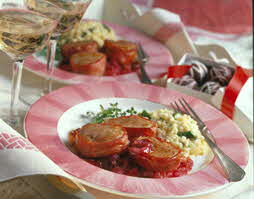 Serves 4.
Ingredients
2 tablespoons vegetable oil
• 2 large red onions, sliced
• 1/2 cup sugar
• 1/2 cup dried tart cherries
• 2 tablespoons Marsala wine
• 2 tablespoons raspberry vinegar
• 2 whole pork tenderloins
• 8 thin slices prosciutto
• 1 tablespoon vegetable oil

Cooking Directions
For Cherry Marmalade, heat 2 tablespoons oil in large skillet over medium-high heat. Add onions, saute 5 minutes, stirring occasionally. stir in sugar and cherries. Continue cooking over medium-high heat, stirring frequently, until onions are very tender and sauce is thickened, about 5 minutes. Add wine and vinegar. Reduce sauce by half, stirring frequently, about 5 minutes.

Meanwhile, heat oven to 450 degrees F. Cut pork tenderloin crosswise into four pieces. Wrap each piece in 2 slices of proscuitto. Squeeze prosciutto-covered pork to help ham adhere to pork. Cut each piece of procsciutto-wrapped pork in to 4 pieces. Heat one tablespoon oil in large ovenproof skillet over medium-high heat. Brown pork pieces on both sides, about 5 minutes total. Remove skillet from heat and place in oven; roast 6-8 minutes or until nicely browned.

To serve, spoon about 1/3 cup warm marmalade onto each of four plates. Top with 4 pork pieces per plate.

*Cherry Marmalade may be made up to 2 days ahead. Refrigerate, covered, until ready to reheat over medium heat.
Serving Suggestions
The pork tenderloin combined with the cherry marmalade make for an elegant yet easy entree. Serve with creamy risotto, green salad with tart dressing and crusty Italian bread with olive oil for dipping.
Nutrition Facts
Calories 380 calories; Protein 39 grams; Fat 13 grams; Sodium 290 milligrams; Cholesterol 115 milligrams; Saturated Fat 3 grams; Carbohydrates 26 grams;Fiber 1 grams

Recipe and photo courtesy of National Pork Board. For more information about The Other White Meat, visit TheOtherWhiteMeat.com