PEAR & WALNUT RICE SALAD WITH BLUE CHEESE VINAIGRETTE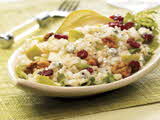 "Rice to the Rescue!" Recipe Contest Winner - Ellie Mathews
Yield: Makes 6 servings.

Ingredients
• 3 cups cooked medium or long grain brown rice
• 1 large firm pear, such as Anjou or Bartlett, cored and diced
• 3 medium green onions, chopped
• 1/2 cup coarsely chopped toasted walnuts
• 1/3 cup crumbled blue cheese
• 1/3 cup prepared vinaigrette (garlic, herb or raspberry)
• 1/2 teaspoon salt
• 1/4 teaspoon pepper

Directions
Combine all ingredients in medium bowl; toss to coat.

Serve immediately over lettuce leaves and top with dried cranberries, if desired.

Nutrition Facts
Calories 260
Total Fat 13g
Cholesterol 5mg
Sodium 450mg
Total Carbohydrate 31g
Dietary Fiber 4g
Protein 6g
USA Rice Federation (www.usarice.com)