Picklicious:
Family-Friendly Recipes that Pack a Pickle Punch!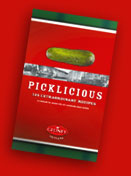 By M.A. Gedney Company

Minnesota-based M.A. Gedney Company, purveyors of pickles for more than 125 years, is helping parents spice up mealtime with fun and tasty twists on traditional recipes. From their cookbook, 'Picklicious: 125 Extraordinary Pickle Recipes', the folks at Gedney have highlighted several ways to incorporate pickles into kid-favorite foods. The book may be accessed and downloaded for FREE at www.gedneypickle.com. You may also purchase a print copy of the book on the website.
SAMPLE RECIPES:

PICKLICIOUS POTATOES
Directions
Mix 1/3 cup chopped GEDNEY Dill Pickles with one cup of sour cream, 2 scallions that have been snipped into small pieces and 4 slices of crumbled, crisp bacon. Mix ingredients together and refrigerate 1 to 2 hours to heighten flavor. Spoon mixture onto a hot baked potato.


PICKLED CHICKEN NUGGETS
Ingredients
· 1 pound boneless, skinless chicken breast, cut into large chunks
· 1/2 - 3/4 cup GEDNEY Dill Pickle juice, plus 2 teaspoons
· 1 cup corn flake crumbs
· 1 teaspoon Italian seasoning
· 1/2 cup egg substitute

Directions
Marinate chicken chunks in pickle juice for at least one hour. Mix corn flake crumbs and Italian seasoning. Whisk 2 teaspoons pickle juice into egg substitute. With a slotted spoon, transfer the chicken pieces to the egg mixture, stirring to coat. Roll each chicken piece in the crumb mixture and place on a non-stick baking sheet. Cook 10 minutes at 375°F. Looking for a great dipping sauce? Try stirring sweet pickle relish into your favorite bottled barbecue sauce.


GREEN-EYED MONSTER BURGERS
Ingredients
· 1/2 cup GEDNEY Dill Pickle juice
· 1 envelope onion soup mix
· 2 pounds lean ground beef
· 30-42 GEDNEY Burger Chip Pickles

Directions
Mix pickle juice and onion soup mix; add ground beef and mix thoroughly. Divide into 12 thin patties. Arrange 5 to 7 dill pickle chips in the center of 6 patties; cover with remaining patties and seal edges well. Pan fry in non-stick pan or broil 5 to 6 minutes on each side. Variation: Mold burgers into hot-dog-shaped patties and use sliced-lengthwise sandwich pickles between patties. Or add a slice of cheese along with the pickles.


REUBEN PIZZA
Ingredients
· 1 (1 pound) loaf frozen whole wheat bread dough, thawed
· 1/2 cup thousand island dressing
· 2 cups shredded Swiss cheese
· 6 ounces deli sliced corned beef, cut into strips
· 1 cup sauerkraut, rinsed and drained
· 1/2 teaspoon caraway seeds
· 1/4 cup GEDNEY Dill Crunchy Pickles, chopped

Directions
1. Preheat the oven to 375°F (190°C). Grease a large pizza pan. On a lightly floured surface, roll the bread dough out into a large circle about 14 inches across. Transfer to the prepared pizza pan. Build up the edges, and prick the center all over with a fork so it doesn't form a dome when baking.

2. Bake for 20 to 25 minutes in the preheated oven, or until golden.

3. Spread half of the salad dressing over the hot crust. Sprinkle with half of the Swiss cheese. Arrange corned beef over the cheese, then drizzle with the remaining salad dressing. Top with sauerkraut and remaining Swiss cheese. Sprinkle with caraway seeds.

4. Bake for another 10 minutes,until cheese melts and toppings are heated through. Sprinkle with chopped pickle. Let stand for 5 minutes before slicing.


About M.A. Gedney Company
For more than 125 years, M.A. Gedney Company has been making extraordinary pickles, condiments, dressings and preserves. M.A. Gedney Company makes and markets a variety of pickles, including the State Fair line, under the Gedney brand name throughout the Midwest and produces and markets Del Monte® pickles and relish across the United States under license from Del Monte Foods. In the northeast corner of the U.S., Gedney makes and markets pickles under the Cains brand name. M.A. Gedney Company is headquartered in Chaska, Minn. For more information, visit www.gedneypickle.com. For more information about Del Monte Pickles, go to www.delmontepickle.com