Beyond the Ice Cream Cone:

The Whole Scoop on Food at the 1904 World's Fair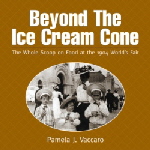 by Pamela J. Vaccaro
Chef James Quick Take:
Excellent read - if you have any interest in food history, this is a fascinating book. If you are a food history buff, this is an indispensable read. Great black and white photos of the Fair, menus, etc. I highly recommend this book. Chef James
Purchase from Enid Press Website
Description
This "coffee table" style book will satisfy your appetite for solid historical facts done with a light touch. Beyond the Ice Cream Cone is an in-depth look at the history of food at one of the 20th century's most awe-inspiring events, the 1904 World's Fair in St. Louis.

You'll learn little known or never-before-told stories about what people ate and drank at the Fair and how companies like Pillsbury, Heinz, Jell-O, and many others tried to influence the fairgoer through food education and lots of free samples.

If you associate the ice cream cone, iced tea, or the hot dog with the 1904 World's Fair, you will want to read Pam's Chapter 10 as she dispels the myths and clarifies the legends associated with food at the Fair. Learn what foods were introduced at the event, but never became national icons.

If you are a culinary enthusiast, you will enjoy a look back at many of the recipes found in Mrs. Sarah Tyson Rorer's, World's Fair Souvenir Cook Book as well the story of this legend of cookery and dietetics. Enjoy seeing the menu items and prices from the popular restaurants at the Fair.

Pam Vaccaro uses all original documents to tell a new and authentic story about food and the people, who grew, sold, cooked, displayed, served, demonstrated and enjoyed it at the Fair.

Dedicated to the American Farmer, this 180-page book includes 165 photos of scenes from the Fair, reproductions of rare mementos from World's Fair collectors, and original recipes from a signed copy of the souvenir cookbook.