MARIA'S HONEY GLAZED HAM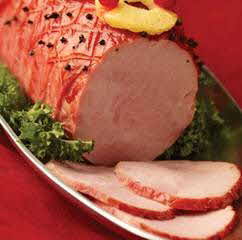 INGREDIENTS
· 1/3 cup light brown sugar
· ½ cup honey
· 1/3 cup dry red wine
· ½ cup pineapple juice
· ½ tablespoon minced garlic
· 1, 6-pound cooked ham

DIRECTIONS
• In a bowl large enough to hold the ham, combine sugar, honey, wine, pineapple juice and minced garlic.

• Place ham in marinade, turn to coat well, and refrigerate at least 6 hours or overnight, turning the ham every few hours.

• Preheat oven to 350°F.

• Place ham on a rack in a roasting pan, reserving marinade for basting.

• Bake ham, basting frequently with the reserved marinade until an instant-read thermometer registers 140°F.

• Allow the ham to sit for 15 minutes before carving.

* Recipe courtesy of Maria Zoitas, creator of 'Maria's Homemade' line of prepared food sold exclusively at Westside Market NYC www.wmarketnyc.com/