CRANBERRY COUSCOUS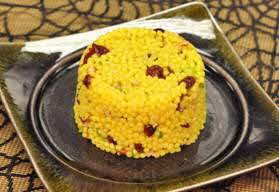 Classic and unique Thanksgiving recipes that are sure to 'spice' up your holiday menu. Courtesy of Maria Zoitas, creator of "Maria's Homemade" line of prepared food at Westside Market NYC.
(Yields 6 – 8 Servings)
INGREDIENTS
• 1 Cup Israeli couscous
• ¾ Cup dried cranberries
• ½ Cup chopped scallions
• 2 Tsp. fresh chopped thymes
• 1 Tbsp. Fresh chopped tarragon
• 1 tbsp. Turmeric powder

DIRECTIONS
1. Cook couscous in boiling water, add the turmeric for about 10 minutes. Drain and rinse in cold water.

2. In a small bowl whisk all dressing ingredients and toss couscous with the ingredients to make the salad.

* Recipe courtesy of "Maria's Homemade" and Westside Market NYC
www.wmarketnyc.com/