CLASSIC GREEN BEAN CASSEROLE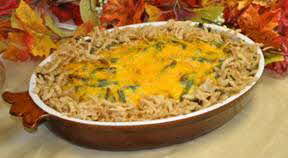 Classic and unique Thanksgiving recipes that are sure to 'spice' up your holiday menu. Courtesy of Maria Zoitas, creator of 'Maria's Homemade' line of prepared food at Westside Market NYC.
INGREDIENTS
• ¼ Stick butter
• ½ Cup diced onions
• ½ Cup sliced fresh mushrooms
• 2 Cups sliced green beans
• 3 Cups chicken broth
• 1 (10oz.) Can cream of mushrooms soup
• 1 Can French fried onion rings
• House Seasoning (1/3 Teaspoon granulated garlic, ¼ Teaspoon black pepper, ½ Teaspoon sea salt)
• 1 Cup yellow sharp cheddar cheese

DIRECTIONS
1. Preheat oven to 350°F.

2. In a large skillet, melt the butter and sauté the onions and mushrooms.

3. In a pot, boil the green beans in the chicken broth for 10 minutes, and then drain them.

4. Add the green beans, mushroom soup, onion rings, and house seasoning, to taste to the skillet with the sautéed onions and stir well.

5. Pour the mix onto a greased 1½ Quart baking dish, bake for 20 minutes then top with cheddar cheese and bake for another 10 minutes or until the cheese has completely melted.

* Recipe courtesy of "Maria's Homemade" and Westside Market NYC
www.wmarketnyc.com/