MARIA'S PUMPKIN PIE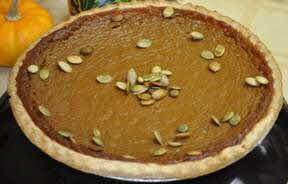 Classic and unique Thanksgiving recipes that are sure to 'spice' up your holiday menu. Courtesy of Maria Zoitas, creator of 'Maria's Homemade' line of prepared food at Westside Market NYC.
(Yields 6 – 8 servings)
INGREDIENTS
• ¾ Cup granulated sugar
• 1 Teaspoon ground cinnamon
• 1/3 Teaspoon ground ginger
• 1/3 Teaspoon ground cloves
• 2 Whole eggs
• 1 (12-15oz) Can of pumpkin puree
• 1 (12oz) Can of evaporated milk
• 1- 9 Inch unbaked pie shell

DIRECTIONS
1. Preheat oven at 425°F for 12 minutes,

2. In a small bowl mix sugar, cinnamon, salt, ginger and cloves.

3. In a large bowl beat the eggs, stir in pumpkin purée, sugar mixture, and the evaporated milk.

4. Pour mixture onto the pie shell.

5. Place pie shell into the preheated oven for 15 minutes.

6. Reduce the temperature to 350°F and bake for another 35-45 minutes. (To test if it is ready you may insert a knife in the center of the pie, to check if it comes out clean).

7. Cool on a wire rack. After 2½ hours or place in the refrigerator.

* Recipe courtesy of 'Maria's Homemade' and Westside Market NYC
www.wmarketnyc.com/